Stainless Steel Round Bars
We offer our clients with a robust range of round bars that is made up of nickel alloy and is acclaimed for its quality and superior polish. Available in various thickness and dimensions, these round bars are in designed to comply with the set industry norms. Available in a diameter range of 3.17 mm to 350 mm, these round bars are offered to our clients in different forms like cold finish bright, hot rolled black and forged round bars with ultra ok.

We are offering a wide range of stainless steel round bars, that are fabricated using top grade raw material. Widely used in varied industries, these round bars are known for their high strength, corrosion resistance, superior polishing and durability. Our range is available in various grades, thickness and dimensions to meet with various industrial usages.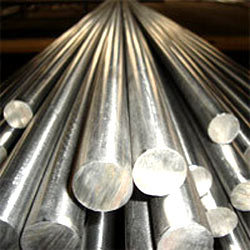 Manufacturing Standard: (ASTMA666-96) (GB/T4226-84) (ASTMA276-93) (GB1200-93) (GB/T4232-93) (ASTMA484-96) (GB1200-92) (GB/4227-1984) (GB707-88)
Grade: 304L, 201, 304, 316, 310, 310s, 316L, 321, 303, etc..
Specification: Cold-drawn bright bar-- Dia. 3--60mm Hot rolled round bar--Dia. 12--100mm Hot forging round bar--Between 100--300mm
Our offered range of SS bars, stainless steel bars, industrial steel bars is reckoned for their durability and resistance to corrosion. Sourced from trusted and reliable vendors, our bars are in conformance with the international standards.
Our bars are available in three broad categories, which are as under:

Austentic type bright bars
Stainless Steel AISI 316L Bright Bars
Stainless Steel AISI 316 Bright Bars
Stainless Steel AISI 304L Bright Bars
Stainless Steel AISI 304 Bright Bars
Stainless Steel AISI 310 Bright Bars
Stainless Steel AISI 309 Bright Bars
Stainless Steel AISI 321 Bright Bars
Stainless Steel AISI 317 Bright Bars
Stainless Steel Bright Bars
Ferritic / Martensitic types Bright Bars
Stainless Steel AISI 410S Bright Bars
Stainless Steel AISI 410 Bright Bars
Stainless Steel AISI 409 Bright Bars
Stainless Steel AISI 409M Bright Bars
Stainless Steel AISI 420 Bright Bars
Stainless Steel AISI 430 Bright Bars
Duplex ( Ferritic-Austentic ) type Bright Bars
UNS S32205 Bright Bars
UNS S32550 Bright Bars
DIN 1.4507 Bright Bars
UNS S31803 Bright Bars
Monel 400 Bright Bars
The material grades of these round bars are mentioned below:
Material

Grades

Stainless steel

304, 304L, 304H, 309, 310, 310S, 316, 316Ti, 316 L, 317, 317L, 321, 347, 347 H, 409, 410, 410S, 420, 430, 431,446

Duplex steel

2205 (UNS No. S31803) and 2507 (UNS No. S32750)

Nickel alloy

Nickel 200 (UNS No. N02200)

Nickel 201 (UNS No. N02201)

Monel 400 (UNS No. N04400)

Monel 500 (UNS No. N05500)

Inconel 800 (UNS No. N08800)

Inconel 825 (UNS No. N08825)

Inconel 600 (UNS No. N06600)

Inconel 625 (UNS No. N06625)

Inconel 601 (UNS No. N06601)

Hastelloy C 276 (UNS No. N10276)

Alloy 20 (UNS No. N08020)

Titanium (Grade I & II)

Copper alloy

UNS No. C 10100, 10200, 10300, 10800, 12000, 12200, 70600, 71500, UNS No. C 70600 (Cu -Ni- 90/10), C 71500 (Cu -Ni- 70/30)