Alloy Steel Round Bar
Our array of alloy steel rods are of unmatched quality as it is made using qualitative materials and innovative techniques.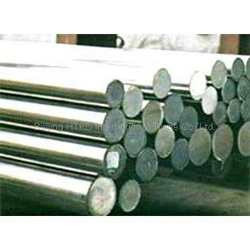 It caters to various segments including processes of various industries and machinery. Composition and other specifications of all our alloy steel rods are as follows:

Alloy Steel Round Bar
We are one of the leading manufacturers of a precision engineered range of Alloy Steel Round Bar. Manufactured using optimum quality raw material, these are available in various dimensions and sizes. These can be customized as per the client's requirements.
Features:
DIMENSION: ASTM A182 Gr. F1, F2, F5, F9, F11, F12, F22, F91 etc.
Technical Specification:


Steel Grade
Chemical Composition - PerCent
S Max
P Max
Cr
NI
Mo
Code Number
C
Mn
Si.
En-47
0.45/0.55
0.50/0.80
0.50/max
0.05
0.05
0.80/1.20
V0.15Min
-
En-353
0.20/Max.
0.50/1.00
0.35/max
0.05
0.05
0.75/1.25
1.00/1.50
0.08/0.15
En-354
0.20/Max.
0.50/1.00
0.35/max
0.05
0.05
0.75/1.25
1.50/2.00
0.10/0.20
SAE4130
0.28/0.33
0.40/0.60
0.15/0.30
0.04
0.04
0.80/1.10
-
0.15/0.25
SAE4140
0.38/0.43
0.75/1.00
0.15/0.30
0.04
0.04
0.80/1.10
-
0.15/0.25
SAE8620
0.18/0.23
0.70/0.90
0.15/0.30
0.04
0.04
0.40/0.60
0.40/0.70
0.15/0.25
SCM420
0.20/0.23
0.15/0.35
0.15/0.33
0.03
0.03
0.90/1.20
-
0.15/0.30
SCM435
0.33/0.38
0.15/0.35
0.15/0.35
0.03
0.03
0.90/1.20
-
0.15/0.30
42CrMo4
0.38/0.45
0.50/0.80
0.15/0.40
0.04
0.04
0.90/1.20
-
0.15/0.30