Alloy Steel Coils
We are known for offering a quality range of Coils to our clients based across the globe. These are widely used across various industries owing to their dimensional accuracy, sturdy construction, high tensile strength and durability. The coil products are available in various dimensions and can be custom made as per the client's requirements.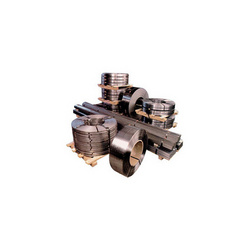 Nickel Alloy Sheets and Coils
Catering to the requirements of various industries, we offer a comprehensive range of Nickel Alloy Sheets and Coils. Our range can be availed in various widths, thicknesses, sizes, grades, OD and ID. We also offer Nickel Alloy and Non Ferrous Coils, Sheets & Plates that are used in diverse industry applications.
Specifications:

Type of Sheet & Coil
Standard & Grade
Nickel Alloy & Non Ferrous Plates
ASTM / ASME SB 162 / 127 / 424 / 168 / 443 / 574 / 462
UNS 2200 (Nickel 200) / UNS 2201 (Nickel 201), UNS 4400 (Monel 400), UNS 8825 (Inconel 825), UNS 6600 (Inconel 600) / UNS 6601 (Inconel 601), UNS 6625 (Inconel 625), UNS 10276 (Hastelloy C 276), UNS 8020 (Alloy 20)
Aluminum Plates and Sheets
HE 20 65032 6061, HE 30 64430